Product Details
This metal wine rack cart is an appealing interior decor as well as a contemporary practical piece. Featuring a compact rounded shape on wheels, the cart is a pleasant space saver for outdoor gatherings and pool parties.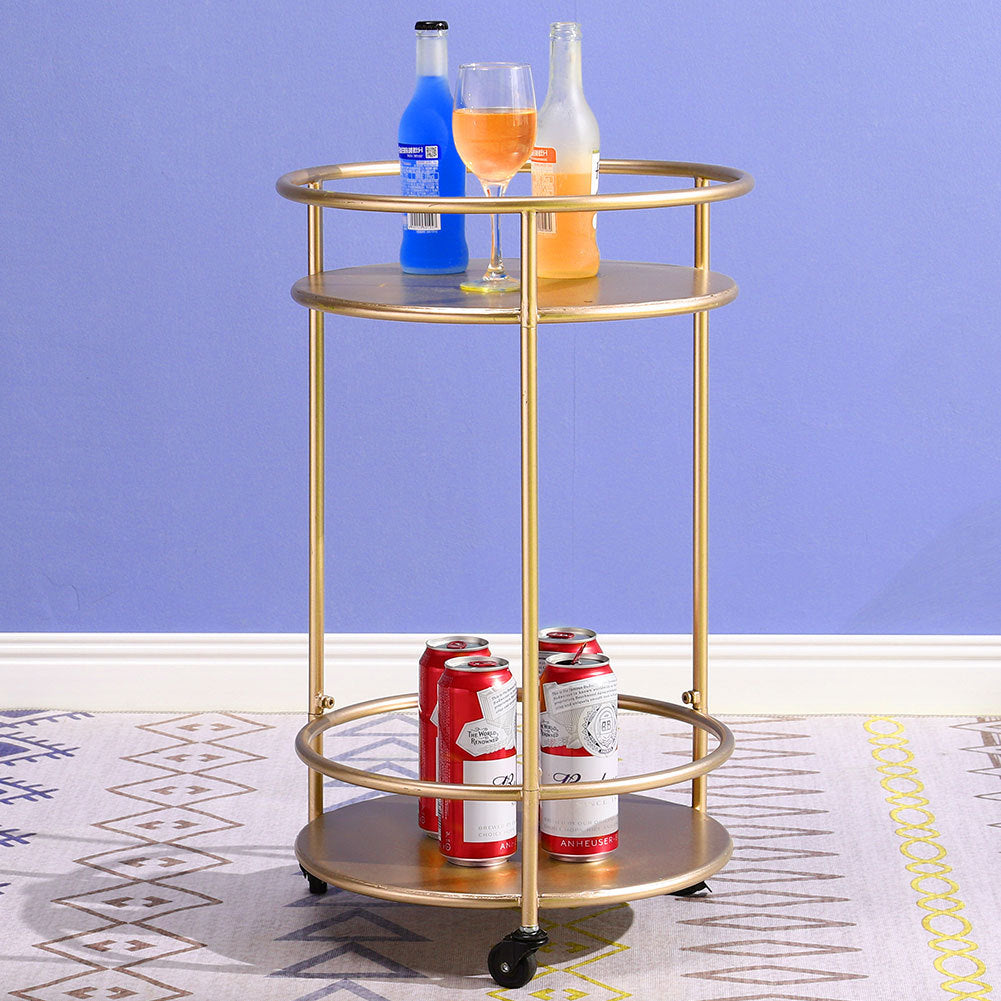 Various Functionality
Crafted with 2 round layers, solid securing rails, and rolling casters, the wine rack cart can be used as a serving tray, end table, coffee table, poolside serving bar, or tray stand. Also, it provides a unique display for bottles, glasses, wine, beverage, or stemware.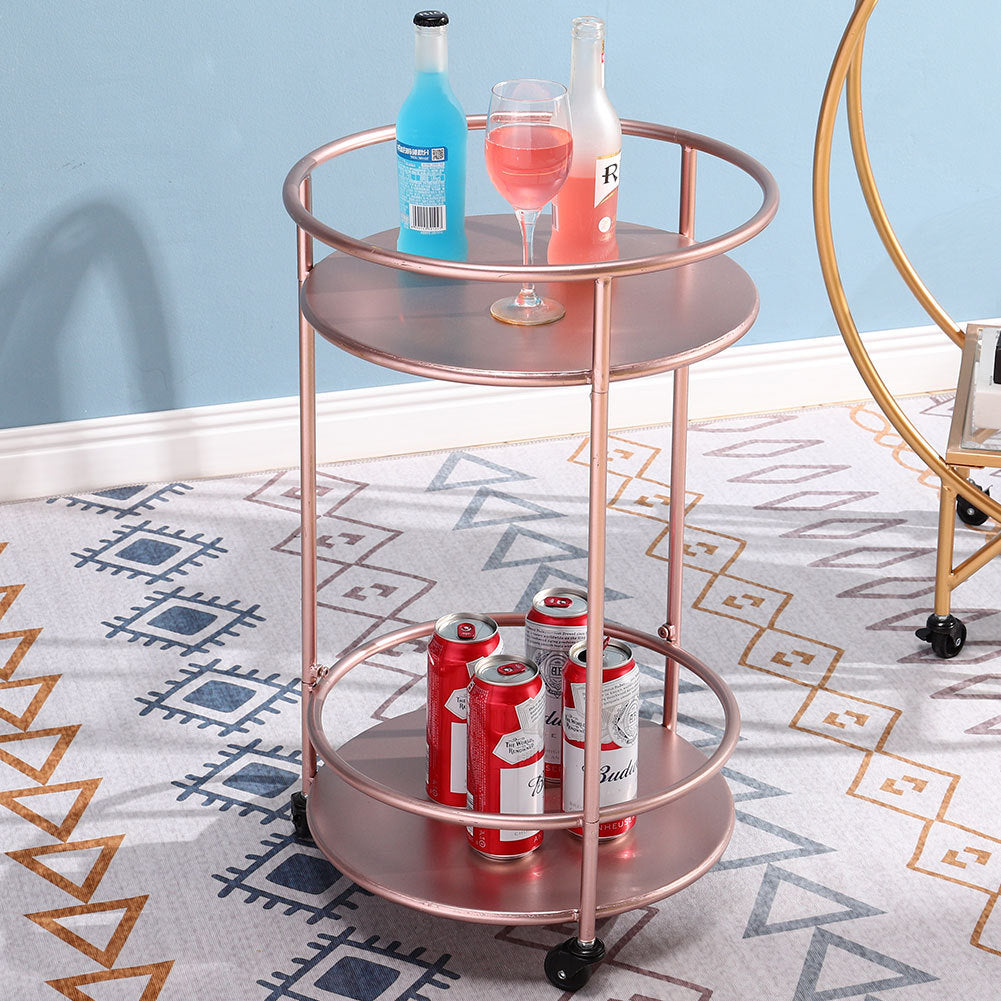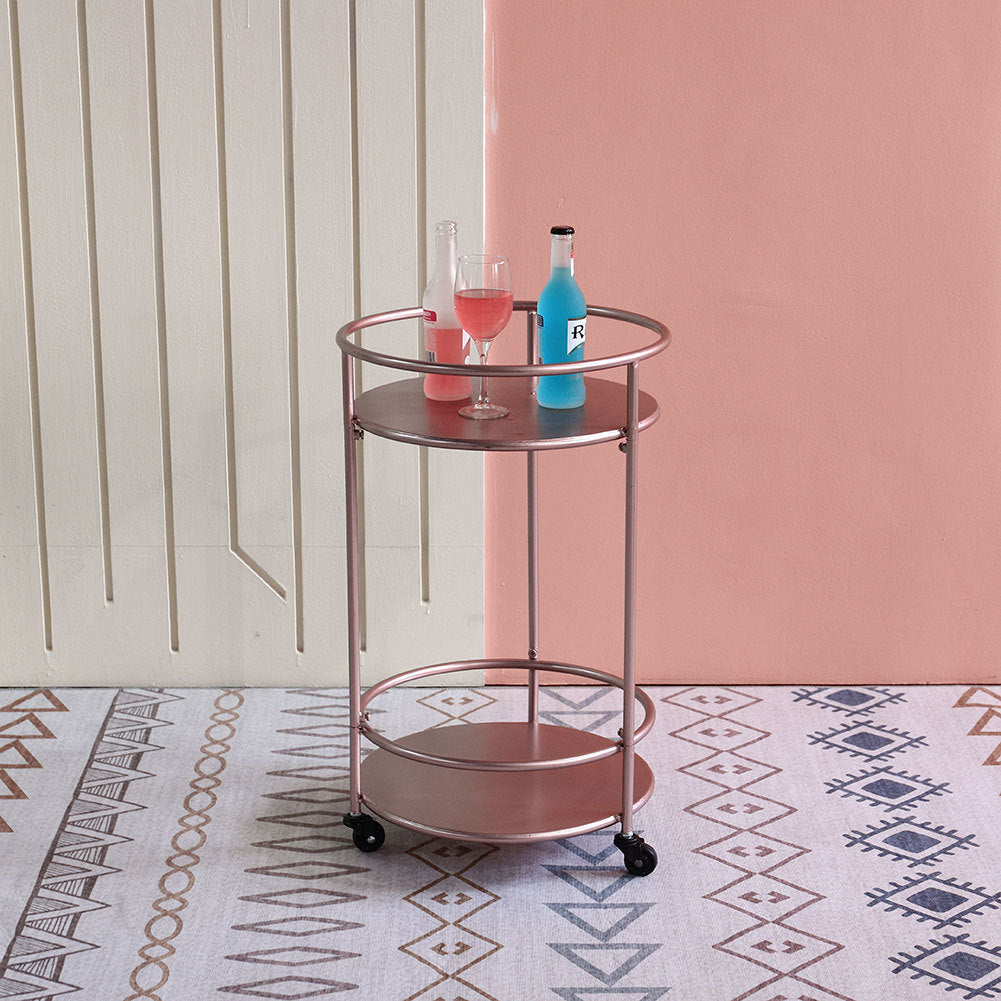 Glamourous Character
With a sleek modern style and a gold-plated iron body, this serving trolley can hold a considerable amount of weight and create a deluxe flair, which is a timeless piece for kitchens or dining rooms. 3 Wheels that spin freely in a complete 360 degree are equipped with wheel locks, easy to move to any corner.
Details & Dispatch
Details
Material: Metal
Color: Gold, Rose Gold
Dimensions: 37 x 37 x 65 cm (W x D x H)
Package Included: 1 x Metal Wine Rack Cart

Dispatch
Dispatch is when we ship the item to our delivery partners who handle final delivery. After 1~2 working days for preparation, delivery should be within 2 working days of dispatch for mainland UK.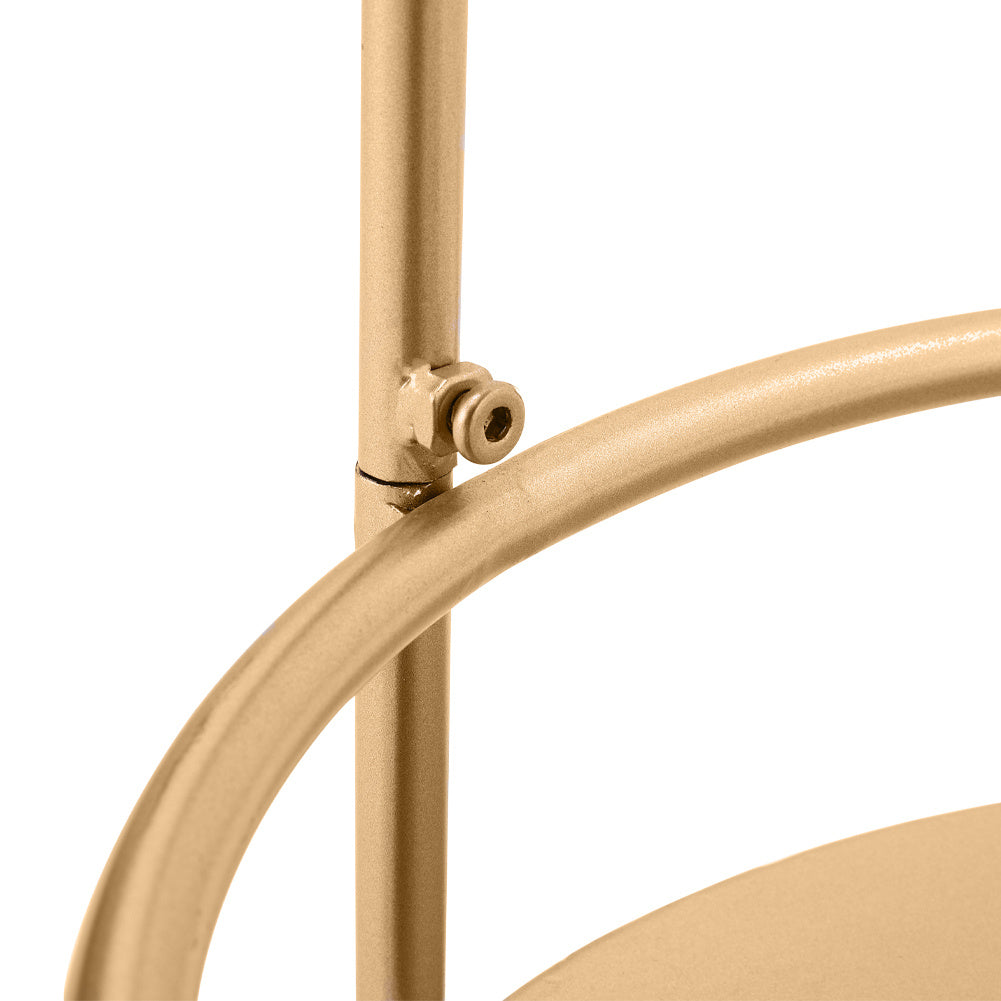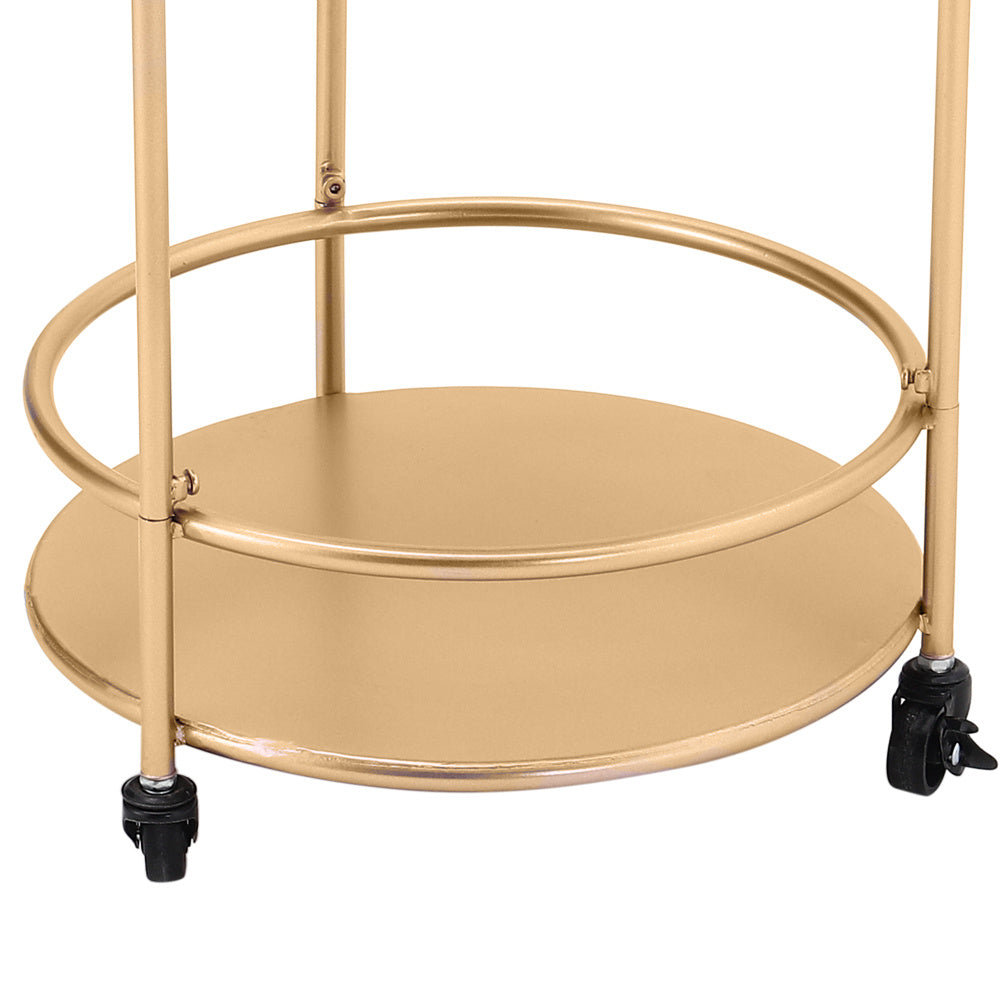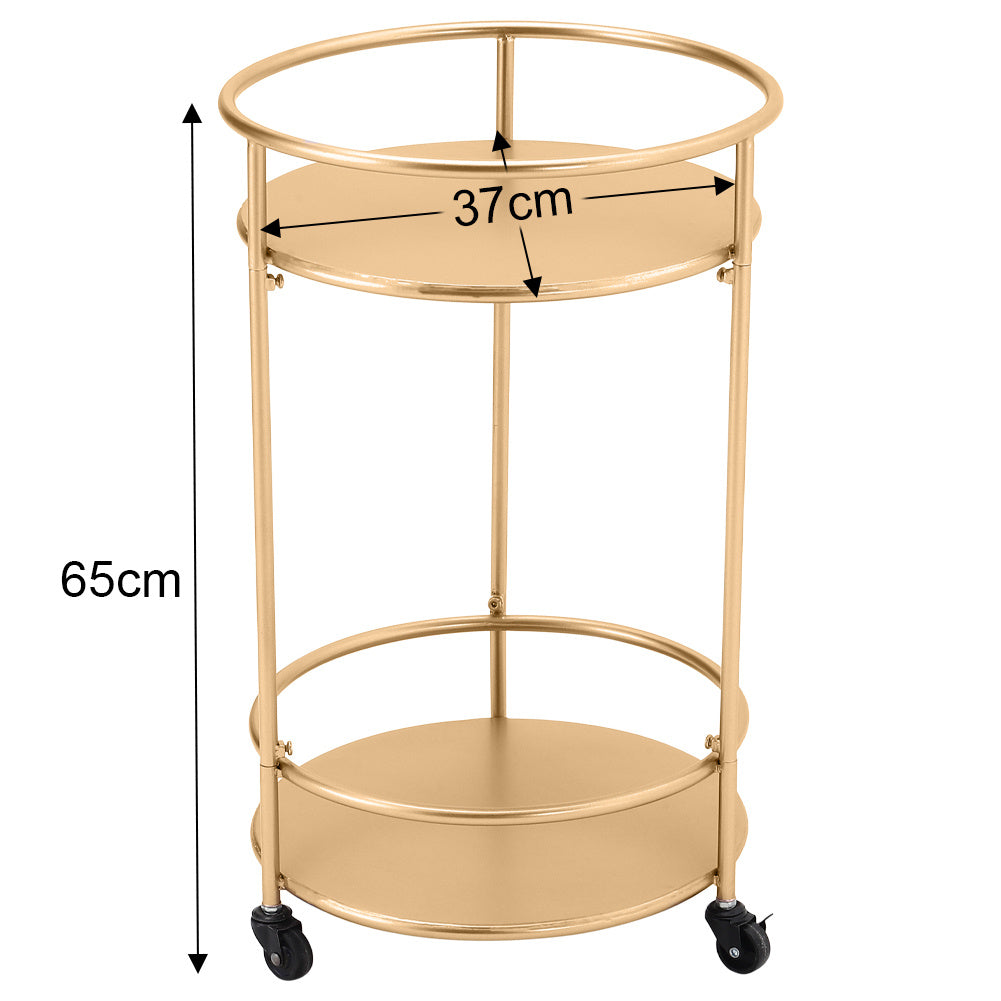 Customer Reviews
Two-Layer Metal Wine Rack Cart Rolling Bar Serving Trolley Kitchen Drinks Holder
At Sofafans we hope you are satisfied with your purchase. We offer a 30-day return policy on all orders. If you think your piece doesn't match your requirement, you can initiate a return or exchange up to 30 days from the date of delivery in the original condition and packaging. Please contact our Customer Care Service right away with any concerns about defective or damaged merchandise. For a more efficient refund procedure, please contact us via email before starting the return process.
Can I change my order?
Once you've placed an order, you can't change it, but you can amend your contact and delivery details on our website or contact us via email, we are always here to help you.
Can I cancel my order?
Yes, as long as the item's not been dispatched. Just contact us and we'll cancel it and give you a full refund. It's as easy as that. Cancellations made after we've sent your item(s) will need to be made at the time of delivery – just refuse the delivery, or contact us within 14 days. Once you've notified us, we'll let you know how to return it, or arrange for a collection. Once it gets back to us, you'll receive a full refund (including your initial delivery charge, but minus any return or collection costs).
What if I don't like what I ordered? 
Don't feel like the item you ordered? Just contact us within 14 days of receiving your order, and we'll let you know how to return it, or arrange for a collection. Once it gets back to us, we'll refund you (including your initial delivery charge, but minus any return or collection costs).
Over this period we don't want you to worry so we have extended our returns period from 14 days to 30 days to give you plenty of time to book in a return with us.
All our upholstery grade fabric/leather covering materials have been thoroughly tested for wear and durability. However, since we can not foresee the environment in which our furniture will used, we can not guarantee and resume responsibility for wear and fastness of color. Most of our durable fabrics are stain resistant and many are actually stain treated.
For non-faulty paint returns we ask that:
You don't open the cellophane wrapping covering the paint tin or wallpaper
You keep the box and insulating cartons that the paint came in
The goods are returned in their original condition
You've got in touch with us to process your return within 30 days of your Payment Confirmation
We'll then supply you with a label so that you can arrange a collection. Once we've received your returned products and we're happy with their condition then we'll process your refund for those products.
What if the item's damaged when it arrives, or I was sent the wrong item?
We take great pride in the workmanship, quality and durability of all our furniture. Each of our custom leather, fabric, and slipcover pieces is bench made to order by master domestic furniture craftsmen and shipped direct to your door as soon as possible. We use only the finest furniture components including select kiln dried hardwood frames, guaranteed "no-sag" spring systems, plush cushions, and top grade durable coverings. We have industry leading warranty. Therefore, if under normal household usage you experience any manufacturing related defects with your furniture piece(s) at any time simply contact us and we'll arrange to get your piece(s) sent back to the factory for repair, or at our discretion, replace the piece(s).
It's important that you inspect your order on delivery, because we'll ask you to sign a form confirming that it's in good condition. If you're not happy, let our delivery partner know, or note this on the form and contact us.
Our quality team checks your furniture to make sure it's up to the very best standards before we send it to you. But if we've missed something or sent you the wrong thing, just let us know within 14-30 days. It really helps if you send us a few photos of the damage or any other issues. Our team will assess your complaint and let you know how to return the item, or arrange for a collection. We'll either give you a full refund, arrange for a repair, or order you a replacement.
How much do returns cost?
If you need to return an item because it's faulty, or because of something we've done wrong, we won't charge you for the return/collection. But if you're returning an item because you've changed your mind, you'll need to pay the cost noted below.
If you return your whole order, we'll give you a full refund, including what you paid for delivery, minus the returns or collection fee.
If you only return some of your order, we'll refund for those items and their delivery, minus the returns or collection fee.
| | |
| --- | --- |
| | Return / collection cost |
| < £50 | £8 |
| £50 - £149.99 | £20 |
| £150 - £249.99 | £38 |
| £250 - £399.99 | £48 |
| > £400 | £68 |
How long will my refund take?
Once your return is received and inspected, we will send you an email to notify you of the approval or rejection of your refund. For security reasons, we can only make refunds to the original payment method you used to place your order.
| | | |
| --- | --- | --- |
| | When will my refund be processed? | When will it reach my account? |
| Debit card, HSBC | Up to 3 working days | Same day |
| Debit card others (e.g. NatWest) | Up to 3 working days | Within 3 days |
| Credit card | Up to 3 working days | Within 2-30 days |
| PayPal account | Up to 3 working days | Within 5-7 days |
| PayPal cards | Up to 3 working days | Typically within 5-7 days |